Afternoon Symposium
The UCR Political Science Faculty invites you to an afternoon symposium that will open at 1 pm in Physics 2000 with a panel of alumni legislators talking about the "state" of California. This will be followed by several tracks of interactive panel discussions featuring faculty research and public policy issues of current interest.
If you have a burning desire to talk about a certain policy issue, system, or piece of political history, please email the department chair with your suggestions no later than March 18 ( shaun.bowler@ucr.edu ). Possible topics currently under discussion are: elections, law and governing; homeland security vs. individual rights; health care policy; media bias; international politics; and politics of the 1960s.
A full agenda will be posted once programming and speakers have been finalized.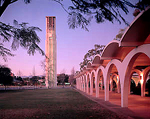 Bell Tower and Rivera Library at Dusk
Should you need a break from politics and policy, the UCR Associated Students are hosting their annual "Spring Splash" on May 14. This event will take place around the Bell Tower and includes an afternoon of live music, food vendors and craft booths. Activities start at 12 noon.